Maine's Job Bank FAQ - Job Seeker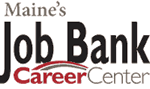 If you don't find what you are looking for here, please contact us to ask more specific questions. We'll do our best to help you find the answer. You may also download the Maine's Job Bank Reference Manual (PDF) as a guide.
The following documents on this page are available for download in either "PDF", Microsoft "Word" or Microsoft "Excel" formats. You will need either the free Adobe Reader, Microsoft Word or free Microsoft Word Reader, Microsoft Excel or free Excel Viewer to view and print them.
FAQ Categories:
Registration
Job Matching & Searching
Job Notifications
Referrals