Home
>
Resources for Employers
Resources for Employers
Maine's Job Bank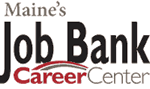 Log in or register here
List your job opportunities at no charge
Reach tens of thousands of registered Maine job seekers
Create, edit and manage your own job listings that are searchable by job seekers nationwide
Access your job listings 24 hours per day, 7 days per week
Immediately view summary information of job seekers who meet your specified qualifications
Review lists of candidates who have inquired about your job listings
Screen some applicant profiles and resumes
Find Employees
Help in recruiting and hiring veterans: Businesses that hire Veterans get dedicated employees who bring a wide range of experience to the workplace. CareerCenter Veterans' Representatives work with local employers to connect Veterans with good jobs. Employers who hire eligible veterans may be able to take advantage of the Work Opportunity Tax Credit. If you are a Maine employer looking to hire quality workers with strong leadership and teamwork skills, contact your local CareerCenter Veterans' Representative for more information.
Also available: Developed as part of USDOL's "America's Heroes at Work" initiative, the Veterans Hiring Toolkit features a straightforward six-step process pinpointing helpful tools for a business to design a veterans hiring initiative.
Recruit a diverse workforce: the Maine CareerCenter system welcomes Maine businesses seeking to recruit workers for a diverse workforce, including workers who have disabilities.
Federal Bonding Program: provides Fidelity Bonds that guarantee honesty for "at-risk," hard-to-place job seekers.
Work Opportunity Tax Credit (WOTC): a federal tax credit that offers an incentive for private sector businesses to hire individuals from 12 targeted groups that have consistently faced significant barriers to employment.
Foreign Labor Certification Program: permits U.S. employers to hire foreign workers on a temporary or permanent basis to fill jobs essential to the U.S. economy.
Other Recruitment Tools
Equipment: computer labs, internet access, fax machines, copiers, and phones are available for recruitment purposes.
Meeting space: interview and conference rooms are available for employers; many are equipped with video conferencing and audio/visual equipment.
Job Fairs: get a list of upcoming job fairs in your area or around the state.
Labor Market Information: Maine Department of Labor's Center for Workforce Research and Information (CWRI) provides data on wages, jobs in demand, employment and industry trends and much more.
Employee Training
CareerCenter staff can refer you to appropriate training and help you make a plan to meet your training needs.
Maine Apprenticeship Program: connects job seekers looking to learn new skills with employers looking for qualified workers, resulting in a workforce with industry-driven training and employers with a competitive edge.
SafetyWorks!: an outreach program of the Maine Department of Labor designed to reduce job-related injuries, illnesses and deaths.